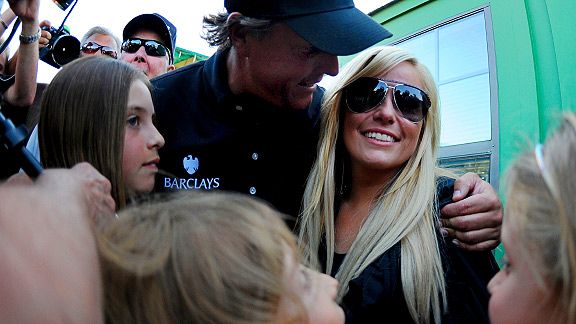 Rick Reilly (ESPN.com) has
a fantastic summary
of Phil (and Amy) Mickelson's win at last week's Masters.
An excerpt:
"I saw Amy just before I putted," Mickelson said. "That was so great. I mean, I didn't know if she would be there. To walk off the green and share that with her is just very, very emotional. We'll remember this the rest of our lives."

Contrast that with Woods, who spent the week reverting to form -- acerbic answers, sprayed swear words, and curt interviews. He finished fourth, which shows that the golf game is very close. The personality makeover, though, looks like it needs some work.

Soon enough, though, Woods will win tournaments like this, pass Nicklaus, and order will be restored in the universe. But for this one Sunday in a flower-stuffed pocket of Georgia, the good husband, the good son, the good man actually got rewarded.