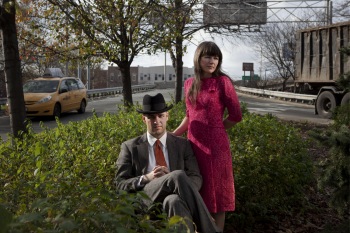 The Reverend Thomas Vito Aiuto and his wife Monique have been spinning in my iTunes (almost exclusively) for a long time now.  I realize
The Welcome Wagon
may not be for everyone but the kitschy instrumental layers, honest vocal layers and layers upon layers of glorious truth and humility have me captivated. 
Noticeably produced by Sufjan Stevens (I agree with
Paste
, you could pick out his influence in about 2 measures - but that's not a bad thing), this very personal recording ventures into the weighty territory of sin, the Christian's alien sojourn, Christ's atoning sacrifice and Christ as the prophesied anointed of David (Ps. 132:11-12).  All this comes with some pretty decent music making.  I'm tapping my feet right now to "Unless the Lord the House Shall Build" (Ps. 127:1-2).  There is something special and satisfying about that combination.  I mean when is the last time you bobbed your head to Malachi 4:2 or heard the indie rock world stroke out lyrics like this?
Deep were his wounds and red
But they whom sin has wounded so 
find healing in the wound he bore
and wretched our disgrace
He hung there in our place
But all who would from whom sin be free 
Look to his cross for victory
Our burdened souls to save
What fearful death he died
But each of us though dead in sin
Through Christ eternal death may win
"
Welcome to the Welcome Wagon
" will be a source of Christ-exalting joy to listeners as varied as those scouring the recesses of the internet for that novel indie recording to the old country gospel fans who just need a little banjo with their truth.  Thanks Asthmatic Kitty Records!
"True to its name, the album is the sound of two faithful people opening their home, and singing songs to encourage themselves and others. It's not much more complicated than that."
-
Paste Magazine